Snoozybears.org

Trips & Pictures

Glacier Point, February 2006

(Click on pictures for full-size image)
---
John was visiting the area for a few days, and wanted to check "ski to Glacier Point" off of his outdoor to-do list, so we headed up to Yosemite early Friday morning. Walter joined us, since he wanted to test out his split-snowboard in cross-country terrain. I rented some 3/4 metal-edge backcountry skis from the Badger Pass Cross-Country Ski Center. Walter quickly discovered that for uphills (in hard-packed snow), it was easier to drag his split-snowboard than to use it in ski-mode with skins... (there was too little traction without skins, but too much friction with skins - the gear is more suited for going up steep hills and then boarding down them). He got some great surprised looks from folks skiing in by boarding down the down-hills on the way out...
Poling the combined board on the flats seemed to work for Walter
Being able to camp at Glacier Point on a Friday night meant we were the only ones there - we camped right on Glacier Point itself. On the way out, was passed a group of 21 people who would be spending the night in the hut there, as well as numerous people who planned to snowcamp in the vicinity. We were very glad we went early, and had it all to ourselves!
The almost-full moon rose right behind Half Dome - I took at least 30 pictures of Half Dome, "just in case" - I'll spare everyone having to look at all of them!
Keeping the tradition of calling from the phone booth at Glacier Pt. (not as buried as the last time Walter, Belinda and I snowcamped there, in 1998)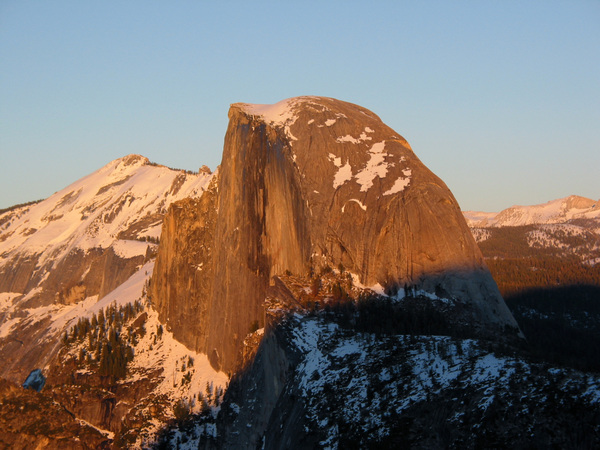 Time exposure from the sleeping bag at night (15 seconds) - Half Dome and the Big Dipper
Our elaborate camp ;) The drop behind the railing was ... impressive (as in sheer, and ~3000 ft)
After a fairly chilly/breezy night, the sun returns to warm us up (thank goodness!)
The split-snowboard in "ski mode".
Random cool clouds (some of which I thought looked like dragons)
The classic panorama from Inspiration Point
In conclusion - a great trip in almost every way, except for the ski boots that I rented (which left me with two large blisters on both heels...)
---
Snoozybears.org

Trips & Pictures

Glacier Point, February 2006