---

We set off early from Berkeley (5:20 am) on Saturday morning, and were pleased to find that the roads to Yosemite were mostly clear to the Badger Pass Ski Area in Yosemite, where it was sunny and warm. We finished packing our packs, and walked over to the trailhead, where a group of people asked us "WOW, that's a lot of gear - you're going in for a 3-4 days, right?" Oops... They watched in horror as we put on our cross country skis (Belinda and Walter for the first time, and I for the first time in at least 10 years) and precariously wobbled down the slope. Cross country skiing for the first time with a pack is tough. We crashed. A lot. And it's exhausting. Poor Walter got so warm that he took off his shirt and jumped in snowdrifts along the way (causing many comments from other skiers passing by... Unfortunately, I could never get my camera out fast enough - he didn't want to be captured on photo, something about his spirit on film or something... :). But we started to get the hang of it, and trundled along, going up and down the hills.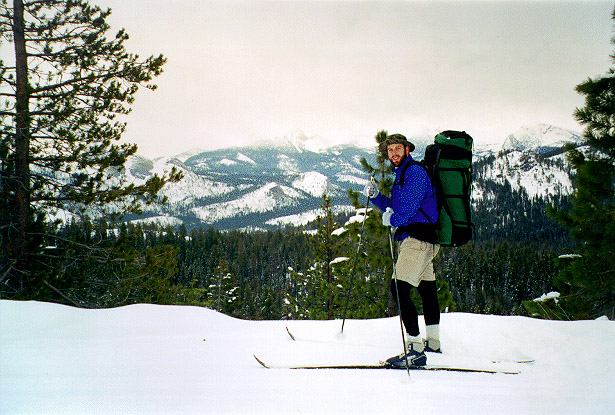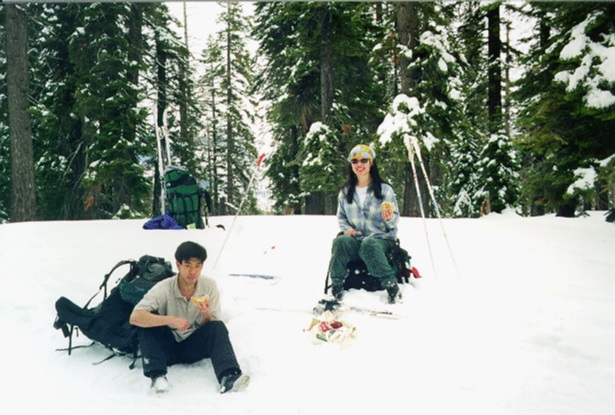 After breaking for lunch(above), we headed up the long (probably 2+ miles) hill on the road to the Sentinel Dome trailhead, near which we left our packs, so that we could descend to and ascend from Glacier Point without all of the weight. We discovered how tough it is to cross-country ski in deep powder when we stashed our bags behind some logs in some nice virgin snow, ...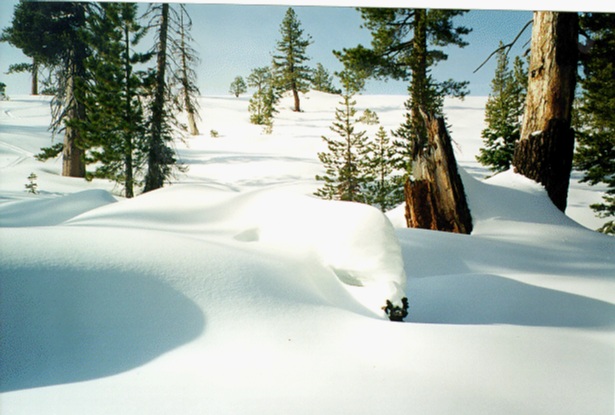 which we did a good job of trampling ...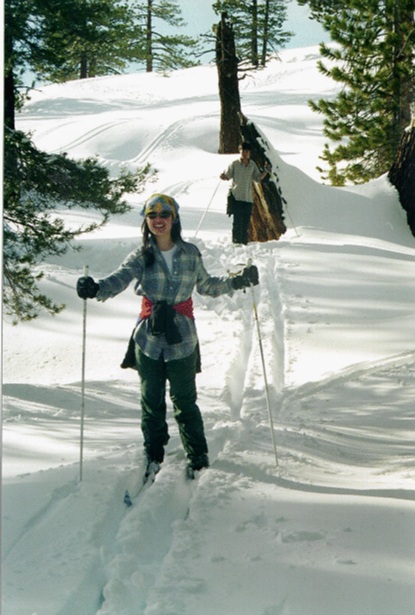 and falling in :)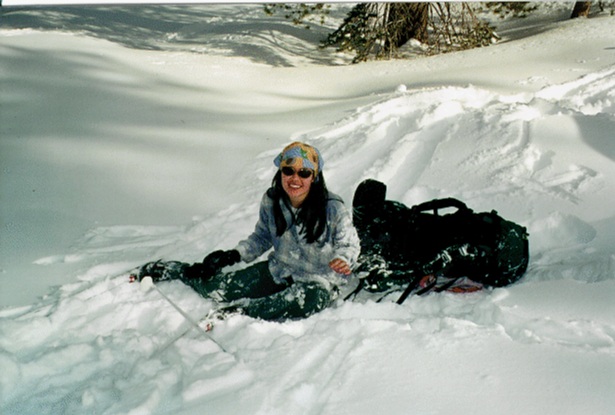 We got some practice skiing downhill on cross-country skis, and got to see the beautiful view (Note the railing, which is completely covered with snow... If one wasn't careful, it would have been really easy to ski right off the edge to the valley floor many thousands of feet below...)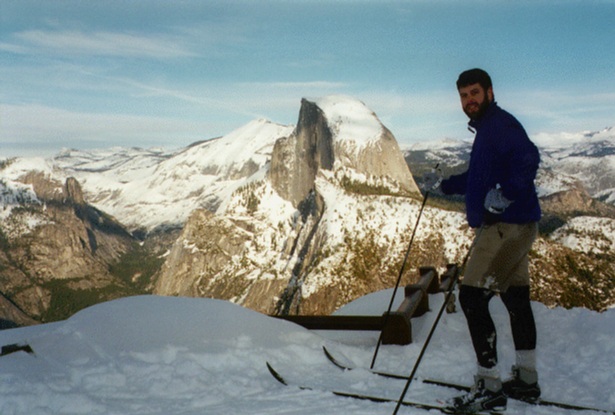 stopping only to give my sister Shirley in Florida a quick call from a convenient phone booth.
Unfortunately, we under-estimated our time requirements, and it was starting to get dark when we made it back to the top of the hill to recover our packs. We set off in the powder by the side of the trail to find a campsite as the temperatures began to drop from the ambient 33 degrees F (freezing).
We found a campsite about half an hour later, and began packing snow and setting up the tent and stove as quickly as possible, but even so I could feel the sensation going out of my hands and feet at an alarming rate as it got colder and colder. We threw together a quick meal of top ramen, I threw some heat packs into my sleeping bag to thaw my feet, and we went to sleep. Belinda and I decided it was just too cold to sleep outside as we usually do, but Walter persisted and slept outside.
(In the morning...)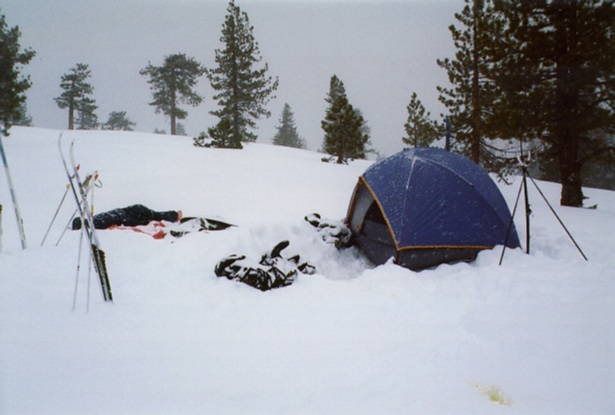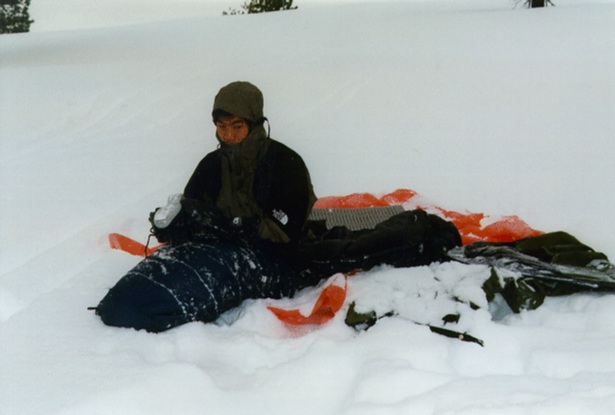 When we went to sleep the temperature was dropping into the low teens (not including wind chill, and it was windy), and probably dropped near or below 0 F in the night (the low at the ski area was 3, and we were a bit higher and much more exposed to the wind). Not a night where you would want to get up and go to the bathroom outside in the middle of the night.
In addition, the big storm blew in in the middle of the night and started dumping snow. Thankfully it wasn't as bad as it was to get later, and we only got 2-4 inches of powder on top of our gear (and in Walter's shoes, since he had left them out, as opposed to Belinda and I, who had sealed our boots in plastic and slept with them, to keep them from freezing). In the morning, we hurriedly ate our hot oatmeal, packed our stuff, and headed out again, as the skies looked more threatening.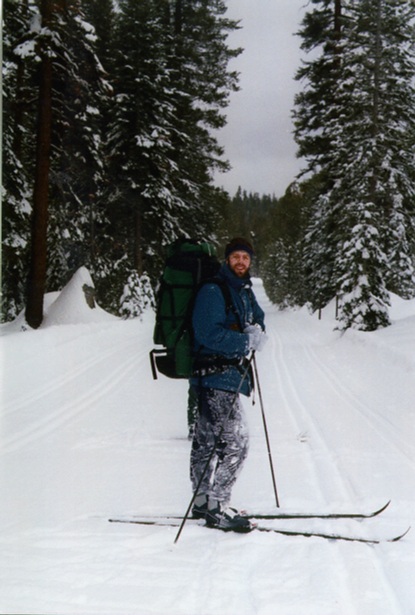 Thankfully we had the long downhill to look forward to, but even between that, vastly improved cross country skiing skills (well, at least a day's worth improvement, right?) , and lighter packs, the trip was exhausting and seemed to last forever. Along the way it began to snow heavily, so we got to experience the opposite of the previous day's weather. It was nice, though - we were on the track, and were not worried about losing our way, and could keep warm as long as we kept going. Thank goodness we didn't have to spend another night out, that might have been dangerous...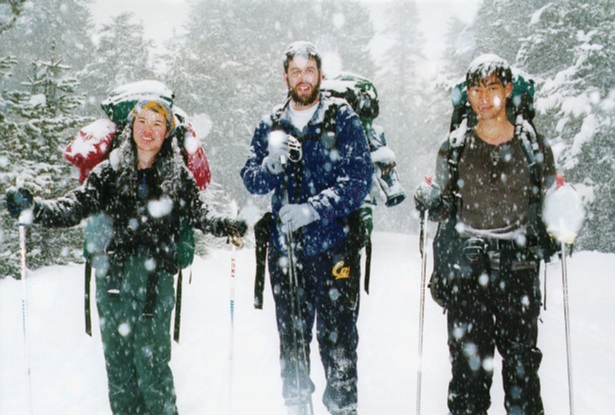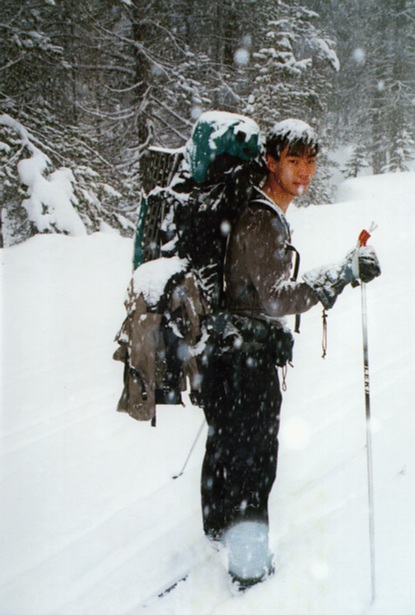 The roads were quite a bit worse on the way out, but still manageable. We took a brief drive through the valley to soak in the scenery (which was mostly invisible due to low-flying fog), and then headed on our way home...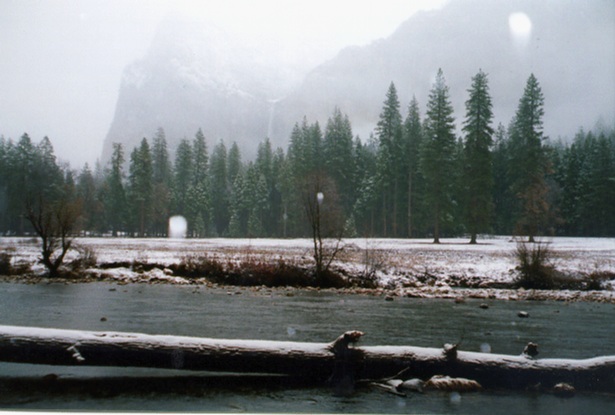 (The Valley, with Bridalveil falls in the background)
Trip evaluation - Great fun! Cross-country ski snow-camping is cool! Just make sure that you establish camp before dark and don't take too much stuff! I will certainly do it again, although the next trip might be more day-trips with camping near the car (and a cooler full of food)...