Posted August 21, 2012 – 8:29 pm
We managed to pull off a family trip (this time with the entire family!) to Loon Lake – yay, no more ear infections for Winston, at least for now!  We had a good time hiking, playing in the water, and hanging out with two other families (Cort, Ann & Teo and Mike & Carson).
The first night, Winston was so excited that he stayed up quite late. Besides happily playing with the hot wheels track (transported from Davis and set up in the Loon Lake Chalet), Winston loved to hang out with Uncle Cort.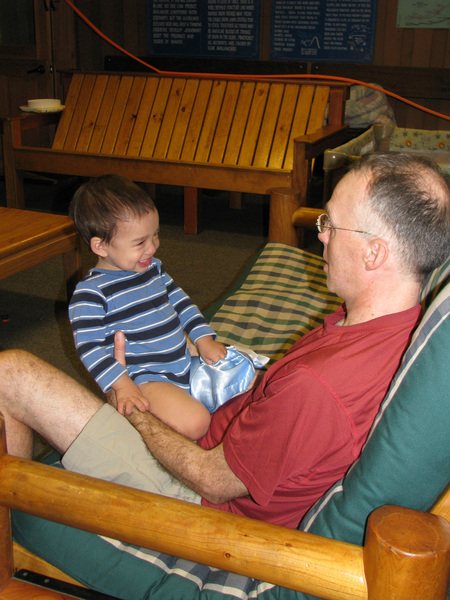 Outdoor story time (with head-lamps) courtesy of Uncle Mike
Aunty Ann reading bed-time stories to the kids (with sleeping mats set up in the loft).
 The big kids finally winding down for bed …
… while Winston's still going strong downstairs in the living room/kitchen area.
 The next morning, Winston continued to race his cars down the hot wheels tracks ….
… while the rest of the gang had breakfast peacefully.
 While some of the adults cleaned up and figured out what to do next, the kids had fun biking around the chalet.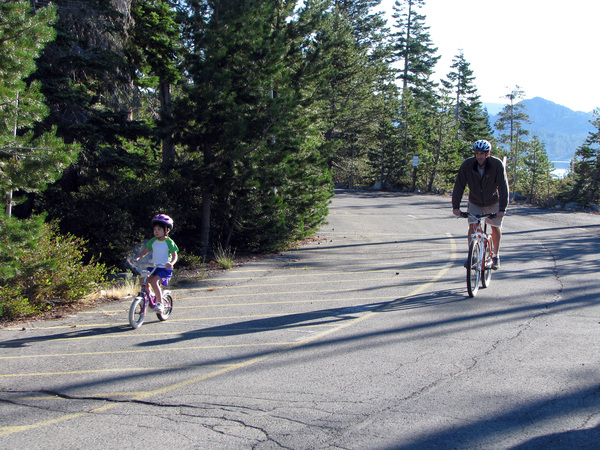 After some discussion, we decided to start the day with an easy hike. With some encouragement, Annemarie and her two friends (Carson & Teo) hiked up to the top of a nearby hill, much to our surprise & delight. We were all rewarded with a great view of the lake.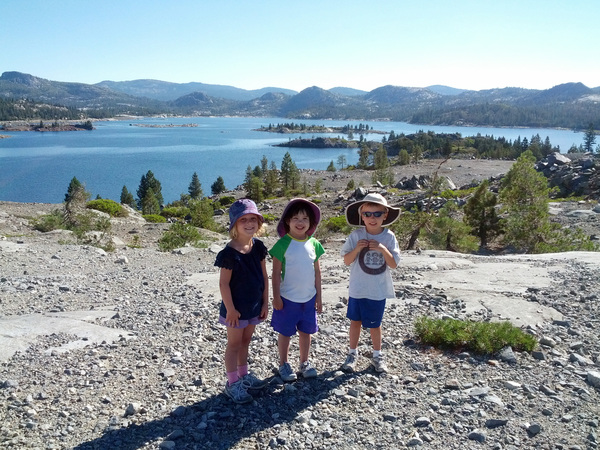 Three proud kids who just hiked down this steep rocky slope!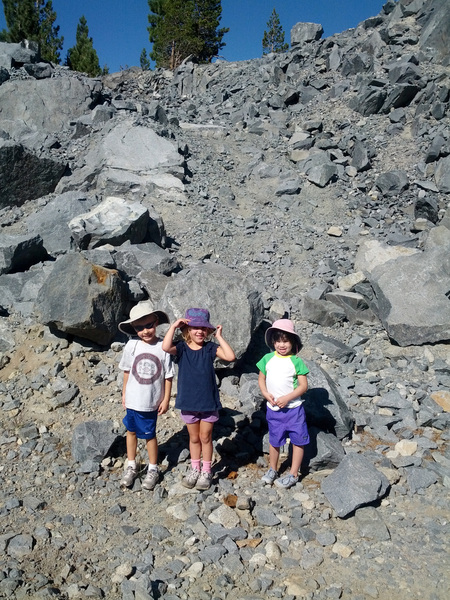 The next stop, of course, was the lake! We suited all the kids up in life jackets, including Winston.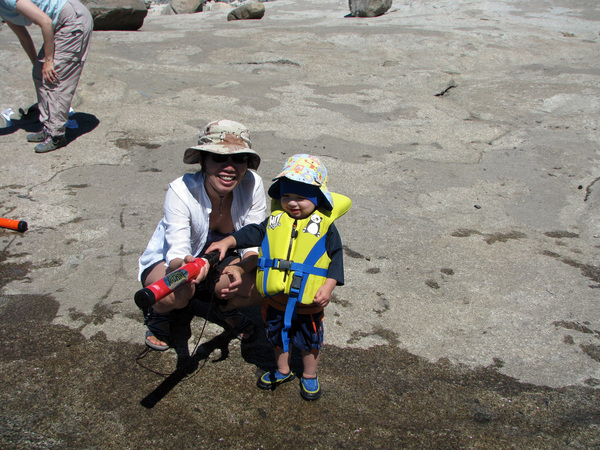 "Do I really have to wear all these???"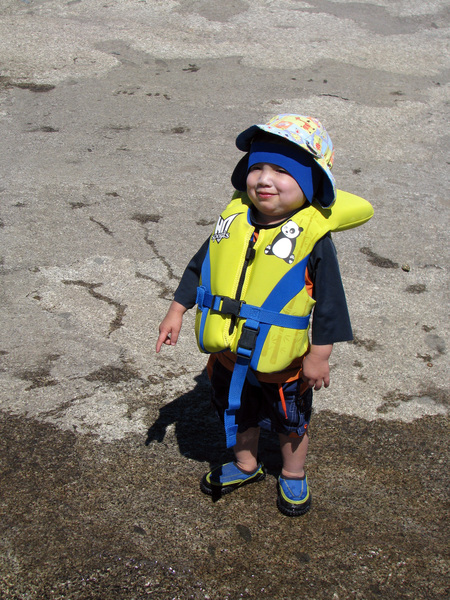 Carson taking a short break for snacks.
Mark taking Annemarie and Carson out on the family raft, the very same one Mark rode in when he was a kid (after some patch work and multiple rounds of testing for leaks in our garage)!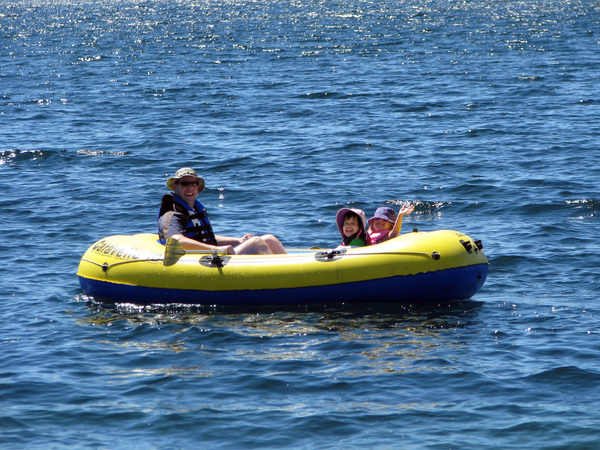 Ah….. what a relief to take off all that gear and have a drink!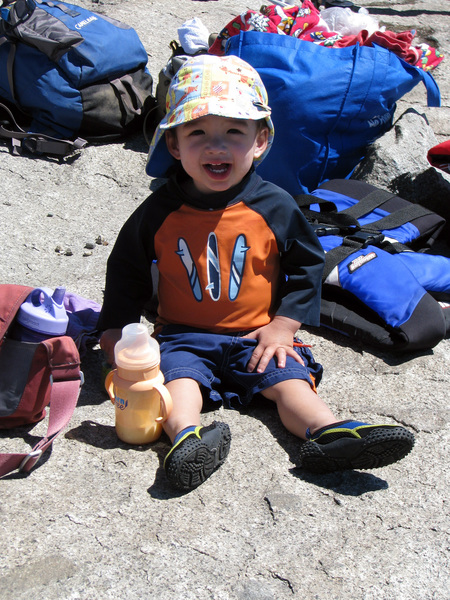 Winston so wanted to prove "he's also a big kid" that he worked on walking on the log for quite a while, from when there was still light out …
.. until we had to bring out the head-lamps.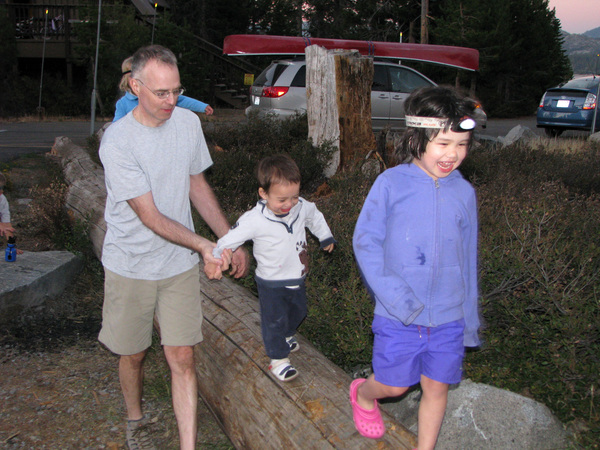 Smiley Winston with the proud head coach, Uncle Cort, and assistant coaches, Carson, Teo, and Annemarie.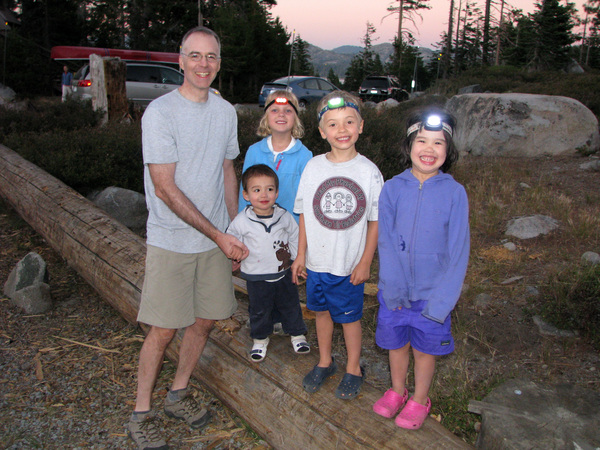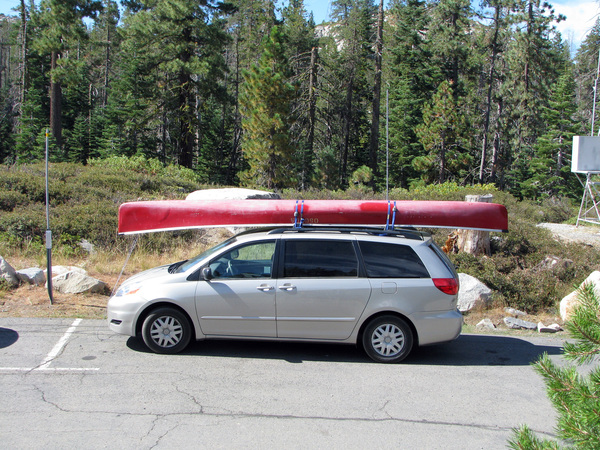 The kids had a blast playing in the water.
The big kids (parents included) got lots of chances to take dips in the icy-cold lake …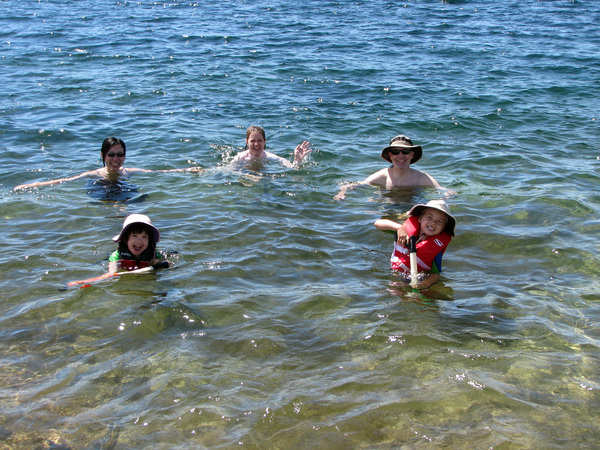 … while Winston kept busy transferring water from one pail to the other.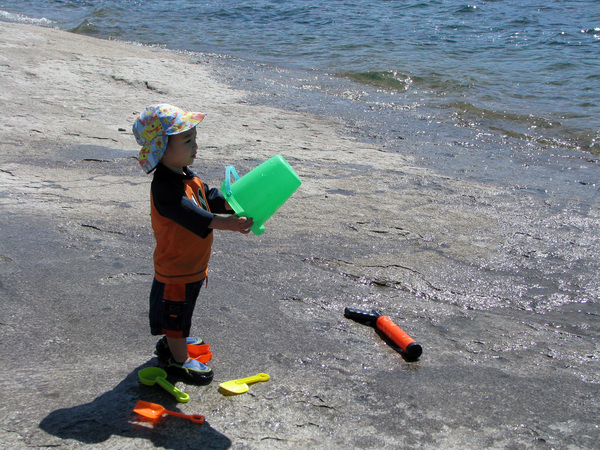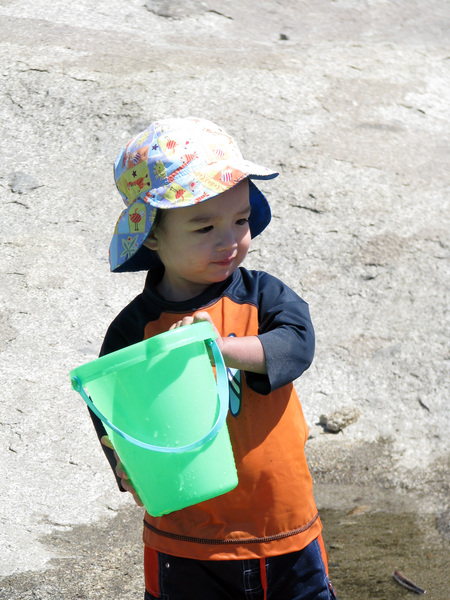 While the adults were packing up and cleaning the chalet, the kids transformed the stack of mattresses into slides.
Two happy campers.
 One last visit to the lake before we headed home. Unfortunately, the water had not gotten any warmer, and the wind didn't help. Thank goodness we had plenty of towels and graham crackers!