Posted August 20, 2012 – 8:27 pm
Winston (and hence the whole family!) suffered through five rounds of ear infections over the winter/spring timeframe, leading to the decision to have ear tubes surgically inserted at the end of June.  Winston was a good sport and recovered well, but in that meantime, Annemarie had several rounds of strep throat!  By the time summer arrived we were exhausted, but we enjoyed being able to take it easy and hang out locally with local friends and family.
Winston loved the wind-up toys that Opa had previously given Annemarie… until he discovered hot wheels cars, and all else was forgotten.
We spent July 4 in Petaluma with Opa (grandpa) and the Spiller clan. Winston tried on Opa's big-rim hat from Mexico.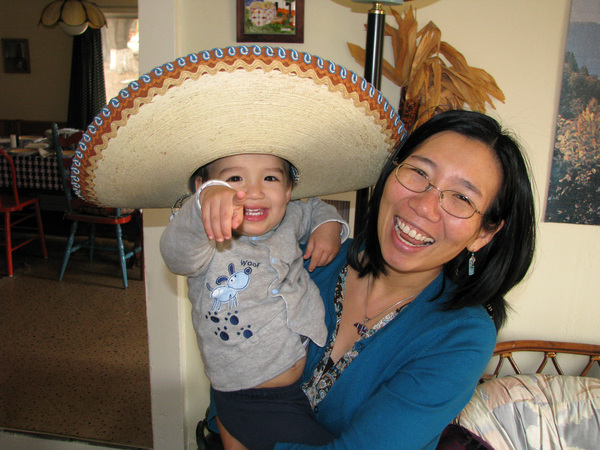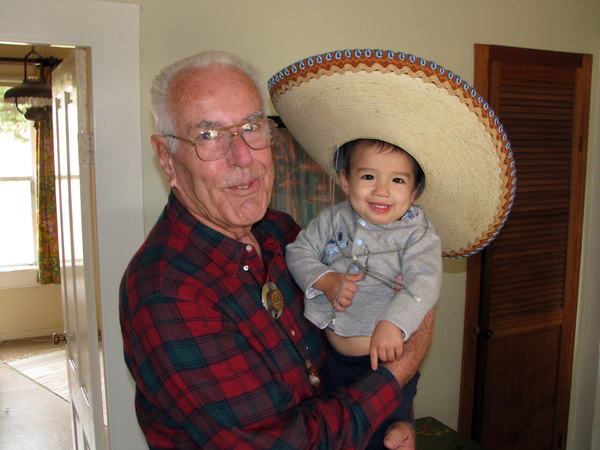 A trip to Petaluma would be incomplete without a trip up into the tree house…
… and a few rounds on the swing.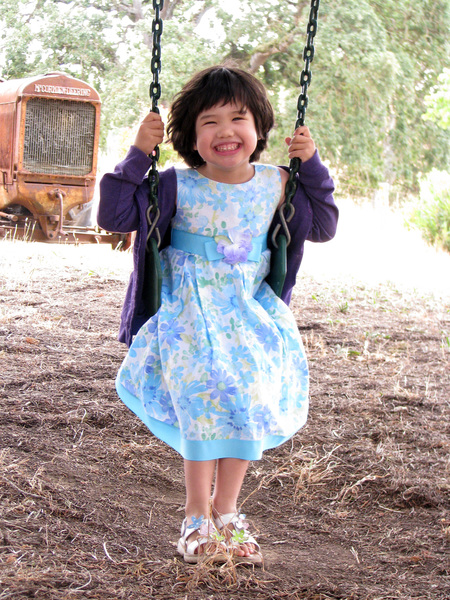 Winston (born in the year of rabbit according to the Chinese lunar calendar) posing with the wise elder bunny, Tante Helga.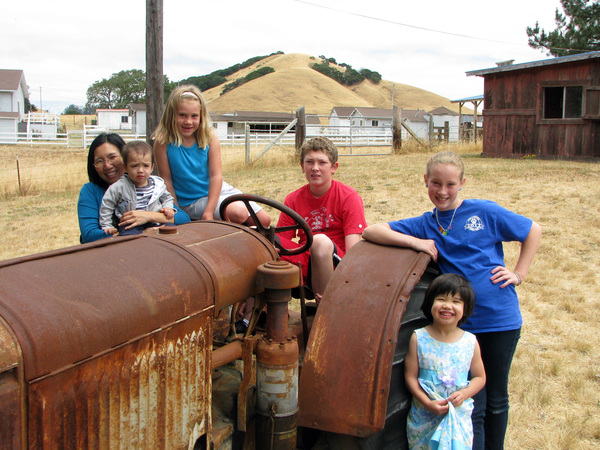 After seeing Uncle Ed's tractor stranded out in the field in Petaluma, Winston was inspired to build garages for his many vehicles back in Davis.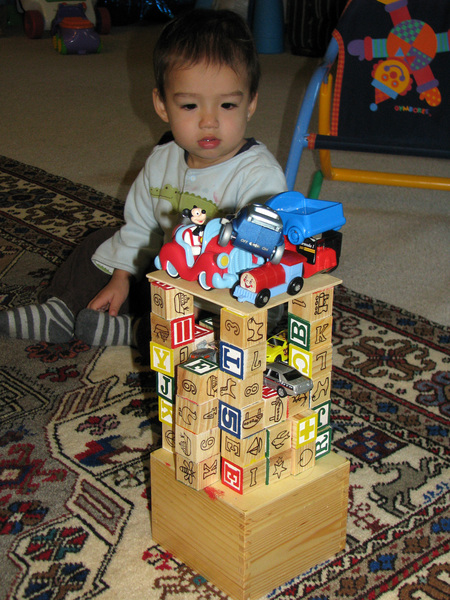 In mid-July, Mark's cousin, Iris, her husband, Jupp, and her son, Matthias, visited us in Davis.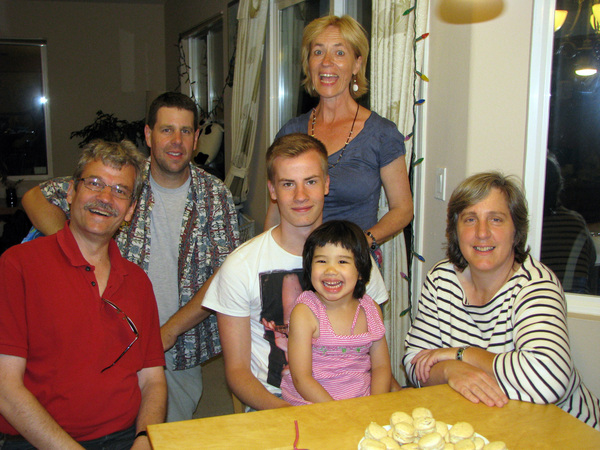 Annemarie and Winston got a real treat: double 'Hoppa hoppa reiter' (or 'Bumpety bump, rider') from Uncle Jupp and Aunt Shirley.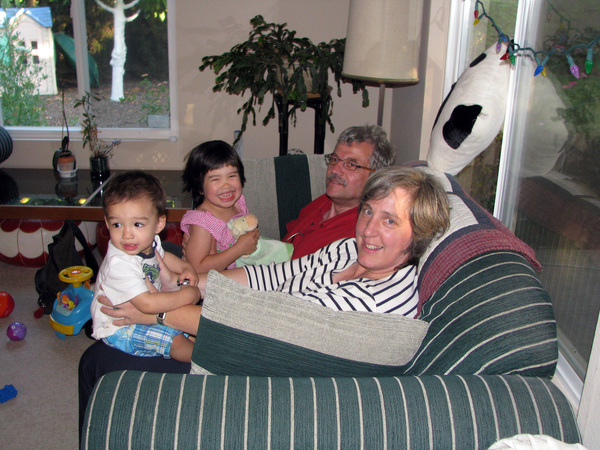 Annemarie also got to go on a special excursion to see the Wiggles live in Sacramento.
While Winston tends to just wiggle anywhere! (including Opa's lap!)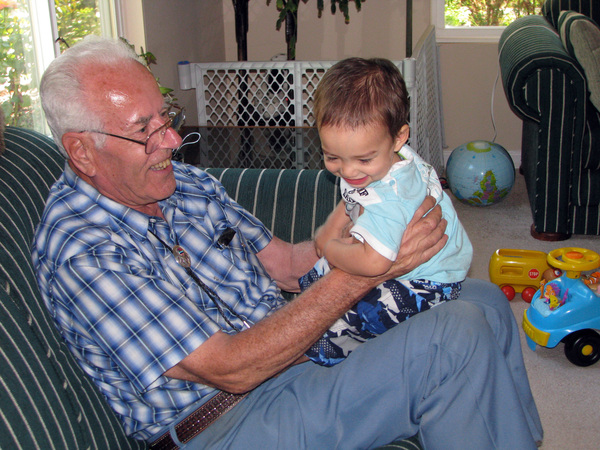 After watching the movie 'Cars' together, Annemarie got the inspiration to 'arrange' her own race car track with Winston's toys.
Meanwhile, Winston continued to have fun terrorizing the infant room at his daycare: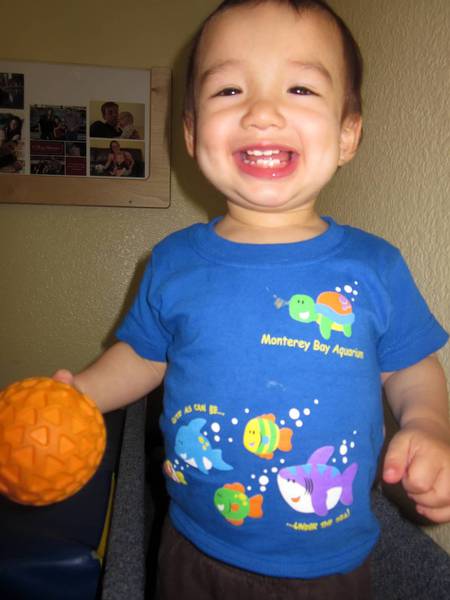 Mark recovered some of his old hot wheels tracks from the basement in Kensington, and introduced Winston to the fun of racing hot wheels cars. Winston really got into it, and started separating the new hot wheels cars (which run better on the tracks) from his other toy cars  in his stash.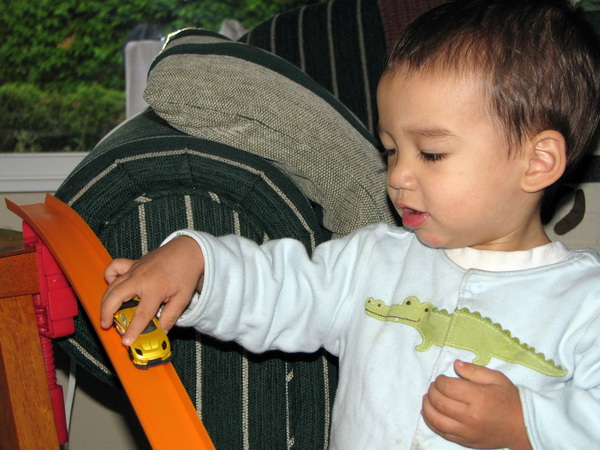 In early August, we got to hang out with Uncle Simon's sister, Caron, who was visiting from Sydney.
One of the kids' favorite activities is 'geo-caching' (or as Annemarie calls it, "treasure-hunting") on bikes with their little friends (and their parents). Here are Teo and his dad, Cort, getting ready for a treasure-hunting excursion.
Winston pointing out the direction to the first cache (or maybe just to his favorite car!).
 Looking for treasures is hard work; Winston refueling with a banana.
Another one of Annemarie's favorite summer activities is swimming! She took swim lessons all summer and (boldly!) enjoyed the occasional treat of jumping into the pool from the diving board:
When it got blazing hot outside in the summer, Winston turned to some of his favorite indoor activities, like reading …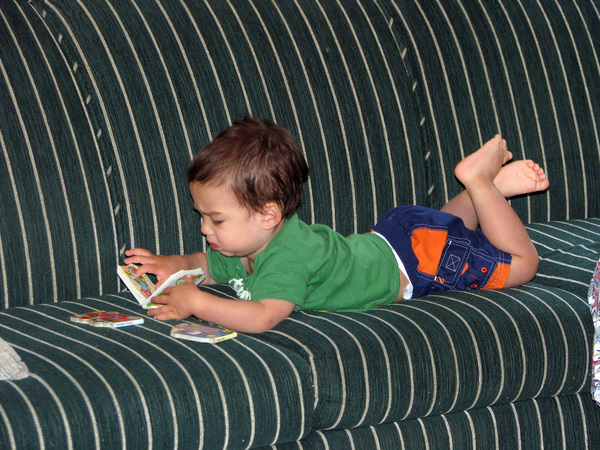 playing games like 'Hungry hungry hippo' …
… (VERY!) serious art work…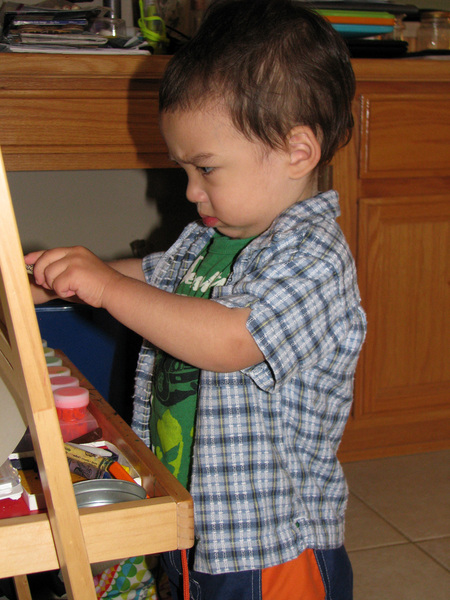 … and following Annemarie around, including orbiting around her:
Finally, one of Annemarie's big achievements over the summer was learning how to ride her bike (without training wheels)!!!