Posted July 28, 2010 – 1:06 am
Just a few pictures we snapped during the various procedures…
Annemarie was a trooper – she put up with being dragged out of bed at 7am (first with a few protests, but then asking "are we going to the Farmer's market???"). Getting the prick for the IV triggered a few tears, but the "buzzy bee ice pack" that the nurses used was a lot like the "boo-boo mitt" icepack from Uncle Steve, so she got over that quickly.
The CT-Scan machine was a bit daunting at first, but once Mommy and Daddy explained that it was really a rocket ship, everything was OK. Annemarie actually held still for 10 minutes with her hands over her head… And when we had to go back for a second round an hour later, she put up with it again!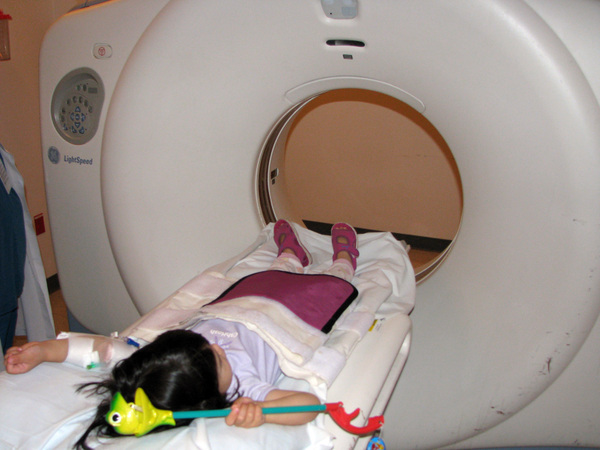 Checking vitals before the procedure:
We didn't get any pictures of the procedure itself – Annemarie was getting sleepy by then from all of the goings-on, but she did protest when she had to lie down on the gurney, and apparently the anesthesia had some sting

– it was also fast-acting, though, and she went out VERY quickly. The doctor was super-nice, and explained everything to us again thoroughly, so at that point we were somewhat reassured, and ready to get it over with…
20 minutes later, they were done. The doctor showed us images from the procedure – no inflammation in the lungs that they could see, and no foreign objects or blockages… That's about the best news we could hear.  Later analysis indicated that the previous lung issues seem to be related to acid reflex and food getting into her lungs, so we'll be working on treating that.
Annemarie woke up about 10-15 minutes after we joined her, and was quite groggy for a while. She was happy relaxing on the gurney with Mommy, and watching "Cars."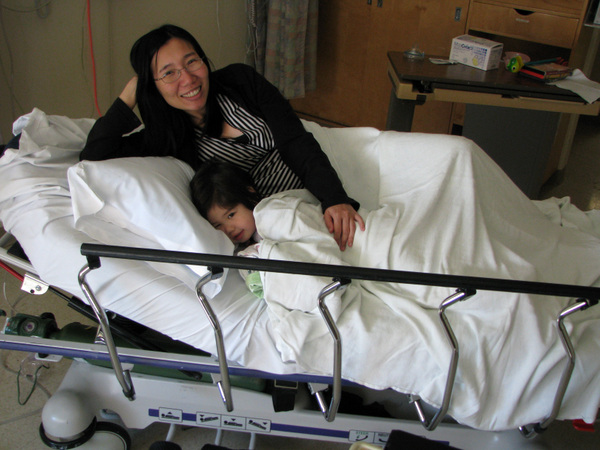 About 45 minutes later she was allowed to drink something, and she attacked grape juice eagerly. That cleared her for going home (around 12:45), where she eagerly dived into a plate of noodles – she hadn't complained about being hungry, but very clearly was!
In general, she did a GREAT job – she put up with everything with a good nature, which made everything MUCH easier… Thank goodness!
Thanks to everyone for their kind thoughts and support, we were so glad to have this over, and with such good results!